Andrew Grill receives Paul Harris Fellow award from the Rotary Club of Sydney 2006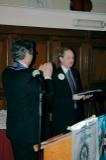 At the change-over meeting of the Rotary Club of Sydney on Tuesday, July 4th 2006, Andrew was awarded with a Paul Harris Fellow by the club in recognition of his service to the club and the community over the past 8 years.
In accepting the award, Andrew said he was both "humbled and honoured" to receive this prestigious award, given the calibre of past Paul Harris Fellow recipients in the Rotary Club of Sydney. More on Andrew's Rotary involvement and the award can be found here.